Why Create A Sponsored Shirt?
by Henry Lee
You can fund your fight expenses. You can pocket extra money for living costs. A big benefit is that you help advertise yourself and your sponsors. Building a brand for your fight career will help you stand out. Tee shirts are physical and if they come out nice people will wear them around and about.
I've created three shirts so far and they've helped pay for a lot of expenses for travel and tournaments.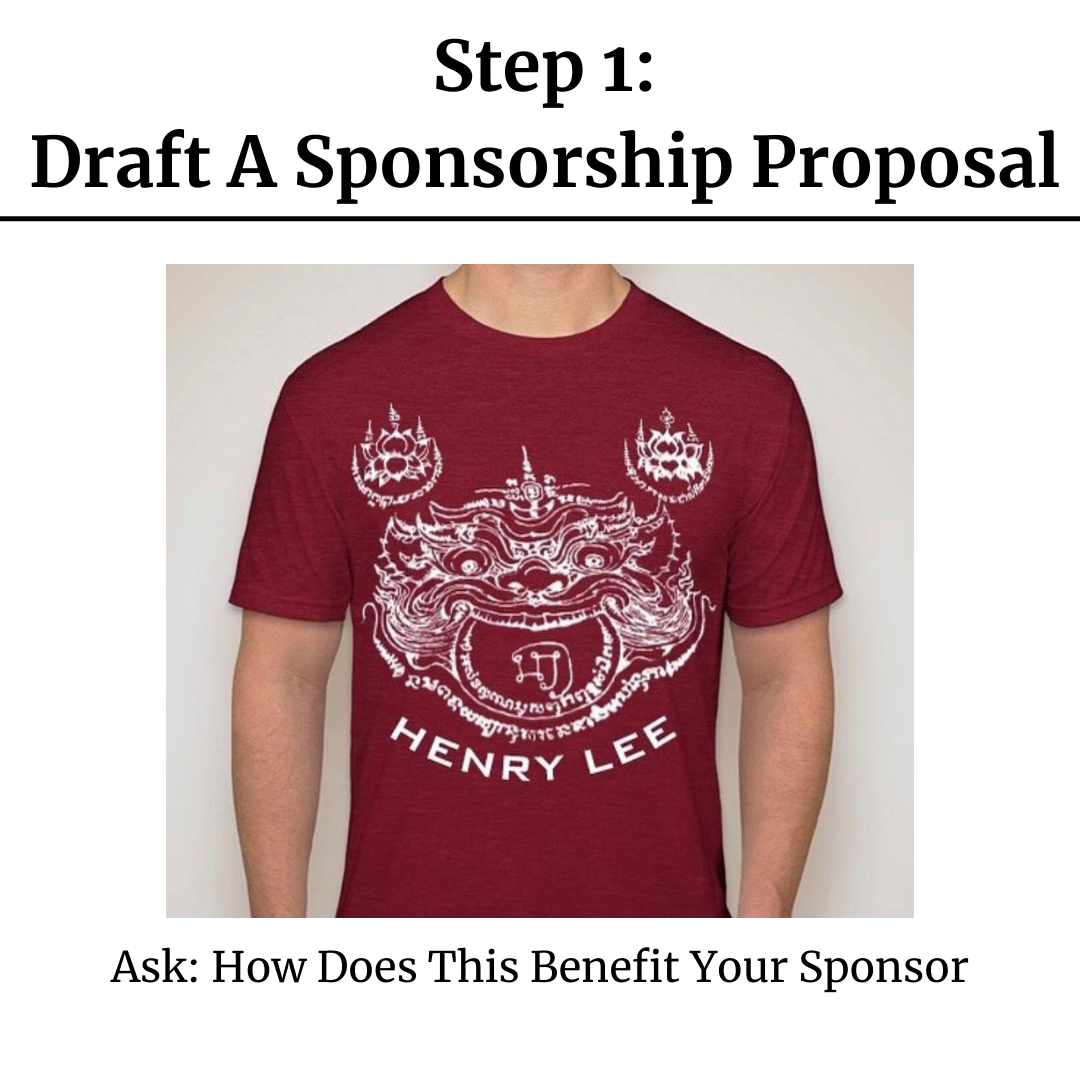 Step 1: Draft A Sponsorship Proposal
The first step is to draft a proposal. You want to explain to sponsors who you are, what you're trying to get sponsored for, and how it benefits them.
I like to make tiered sponsorship levels. The top tier is the most expensive but also has the most perks.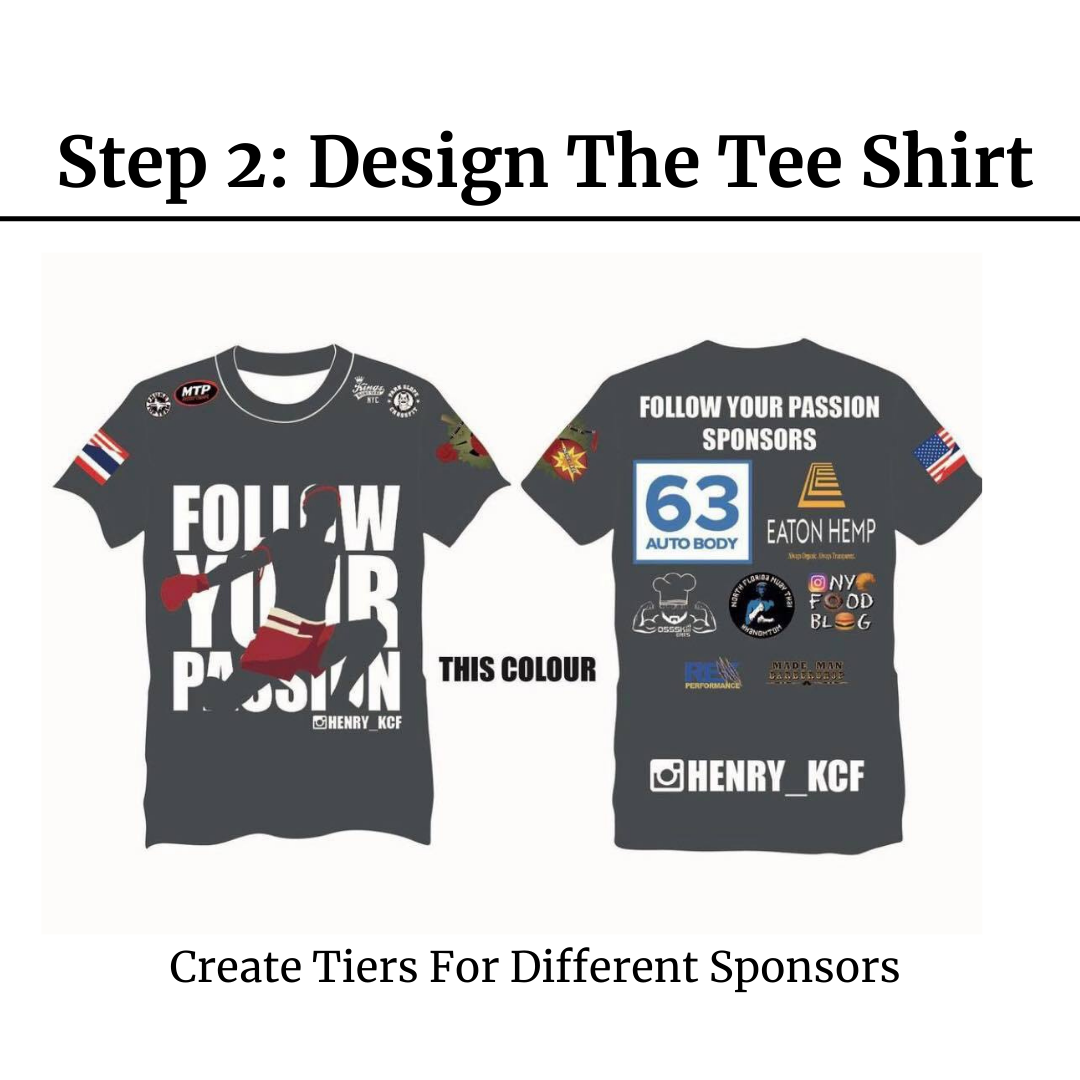 Step 2: Design the Tee Shirt
You can design it yourself, have a friend design it or hire a designer.
I like to design shirts myself because it makes them more personal. I like to make it the way I want it to be. I can make it on time. Sometimes events are right around the corner. Designing it yourself is also free.
There are a lot of details in designing your tee shirt though. For example, there are a variety of different tee shirt styles. There are crew neck, V-neck, long-sleeved, short-sleeved, crop tops, polo, and many others. This needs to be decided beforehand.
Also, if you are making different sizes you will need to factor in how the image scales. Will the shirt look the same on a xxxl and a xs?
If you're not good at drawing you can search online for help designing a shirt. Finding a freelancer to design your shirt is easy with sites like Fiverr. Yet, keep in mind that you'll want to be able to speak the same language. Make sure your idea of what you want and the designer's idea of what you want line up.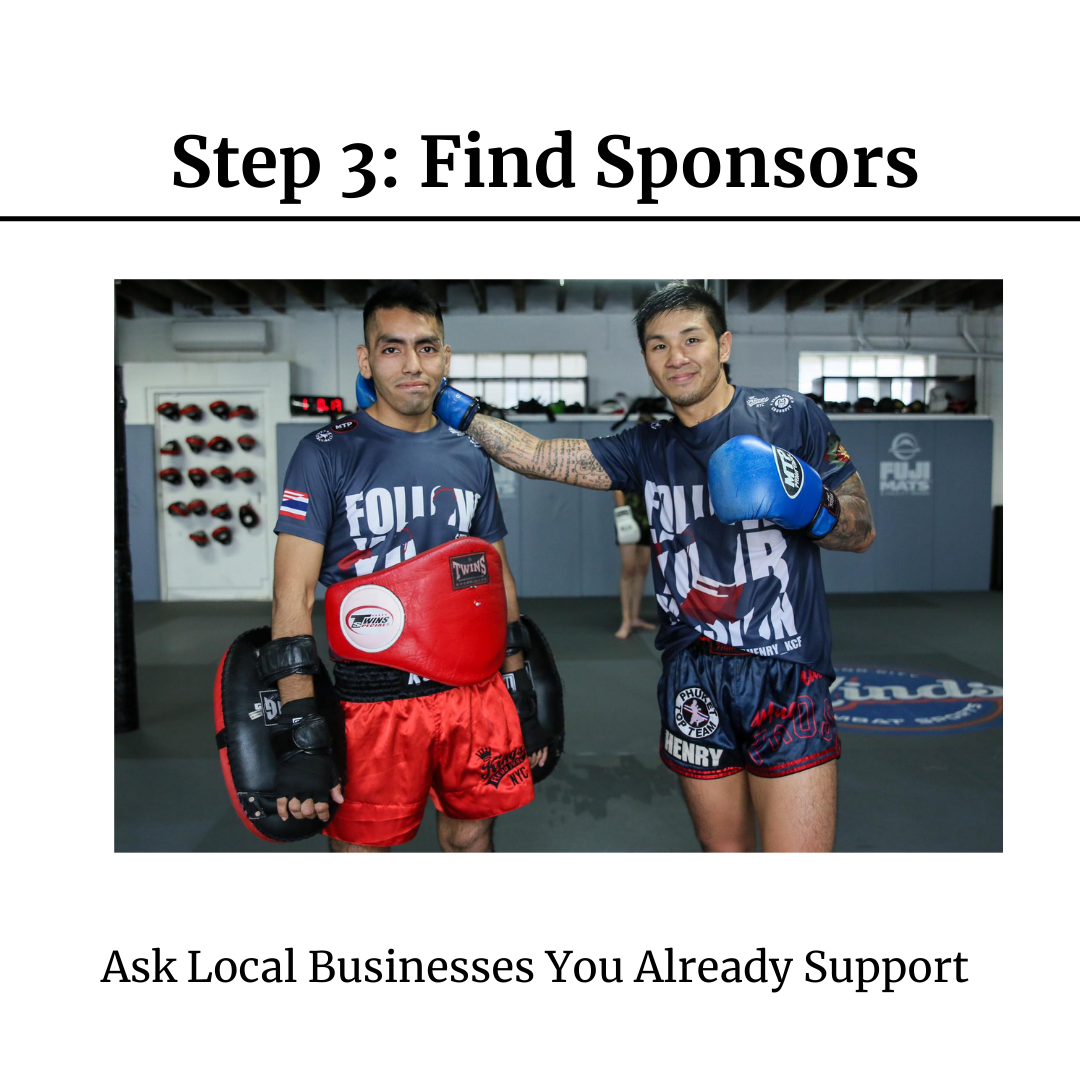 Step 3: Find Sponsors
I go locally and ask businesses that I go to a lot. I explain to them the perks of sponsorship.
I'll also ask friends and family that have businesses. To see if they'd like to sponsor me.
Last I go through social media. I do a lot of posts and see if anyone wants to sponsor my shirt.
Sometimes there are mom and pop shops that want to help. They might not have a lot of money but want to help. This is where the tiered system helps. They can buy the lowest tier and be a part of the project.
When you have sponsors you want to build a strong relationship with them. You want to promote them as much as you can. If they are sponsoring you now they may sponsor you in the future.
Sponsorship with businesses is a business relationship. It is important to create long term lasting relationships with the businesses you work with. This starts with being a good customer as mentioned above.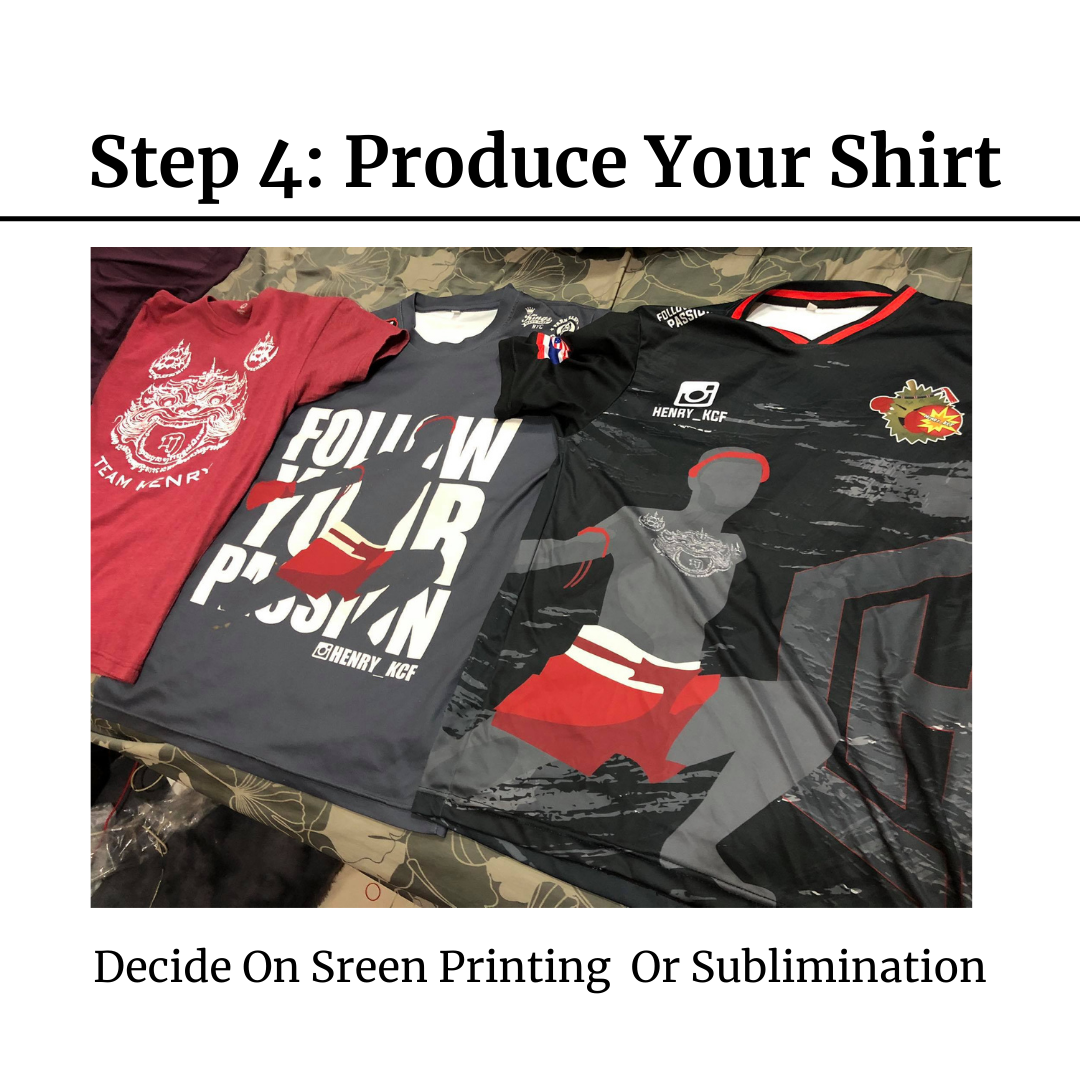 Step 4: Produce Your Shirt
I've done shirts in the USA and Thailand. They vary. The shirts in the states were cotton with screen printing. Screen printing costs per color so it can be expensive if you do more than one color. You'll want to only do one or two colors to keep the cost down.
In Thailand, you can get dry fit or cotton. You can do sublimation which means you can do all the colors. This means you can do any design and the price can be a little cheaper than in the states.
To get your costs down you'll want to buy in bulk. If not try to order a good amount.
If you want to order from Thailand you need to factor in shipping costs and time. Make sure you schedule it out.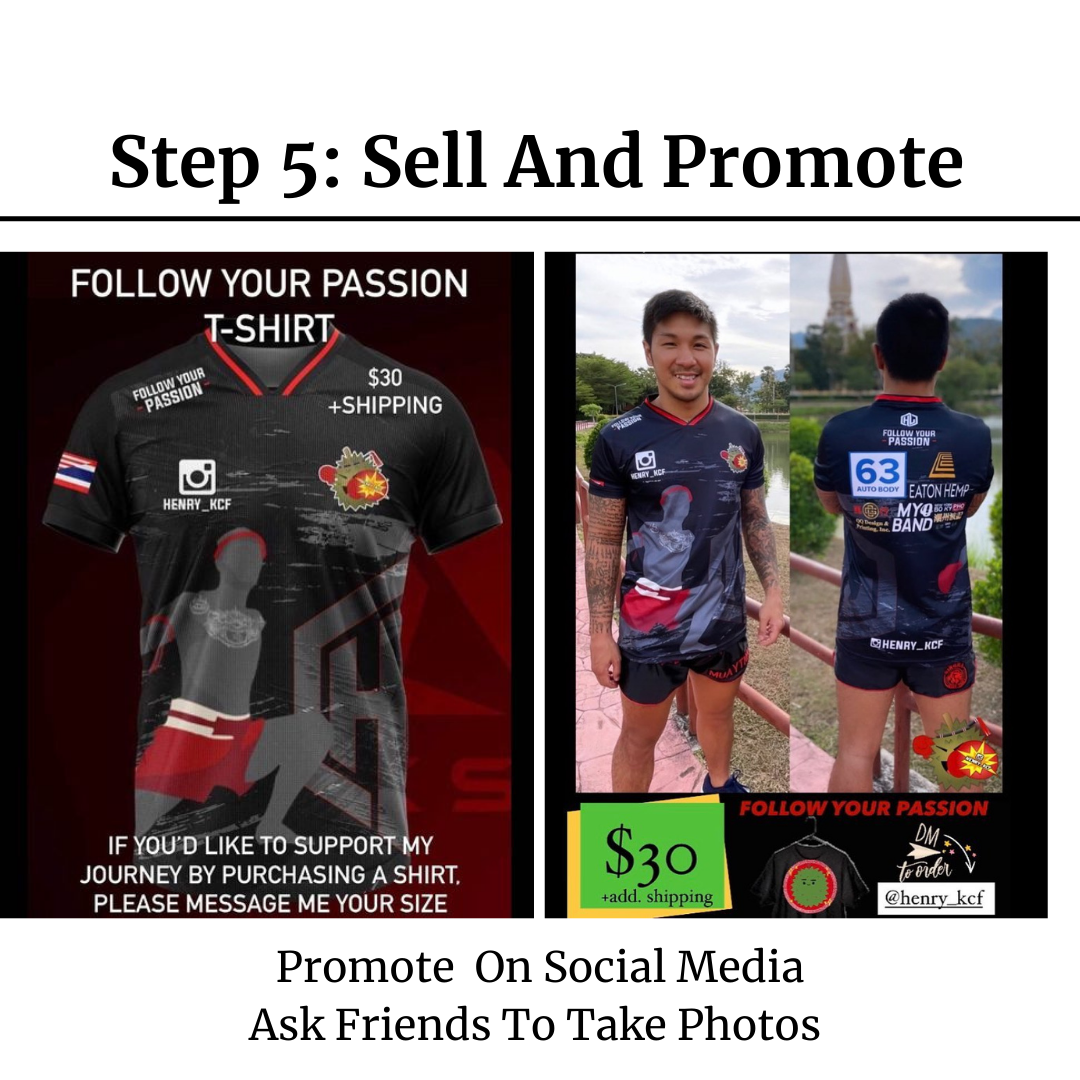 Step 5: How To Sell
Once everything is done and the mock up is complete I begin sharing on social media. I ask people to share my post and when they get the shirt to wear it in a picture. When people see it, they'll be more likely to buy it or help you out.
Getting people to know about the shirt is important in each of the stages. This is where social media comes in handy. There are a bunch of different things you can do to raise awareness for your shirt.
You can do contests, giveaways, or give your shirt to friends who are "influencers."
Being an influencer isn't always the number of followers you have on Instagram. Putting a shirt on your grandma will get you more buys through your family than putting your shirt on someone who blasts pads all day with no community.
Conclusion
Making sponsored tee shirts worked for me. It's helped me make some money and get my name and personal brand more recognized. It's easy to do and a great tool for up and coming fighters established boxers, and or even gyms.
To Support Henry and his journey buy a Tee Shirt from him. Contact him via facebook or instagram.