On December 24, 1982, arguably the two best pound-for-pound fighters on the planet faced off in the fight of the century. Their names weren't Ali and Frazier or Leonard and Hagler. They weren't western boxers. The two were Muay Thai fighters (or Nak Muays). There names Samart Payakaroon and Dieselnoi Chor Thanasukarn.
Samart was the quintessential technician or Muay Fimeu. He had movie star good looks. And he fought with precision, creativity, and lighting fast reflexes. He could float like a butterfly and sting like a bee. But instead of stinging with just his fists, he used all eight limbs. He elbowed, kicked, kneed, and punched his way to victory.
Over his career, he won four Lumpinee stadium titles in four different weight class (102 lbs., 108 lbs., 115 lbs. and 126 lbs.). Lumpinee and Rajadamnern stadiums were the two biggest venues for Muay Thai at the time. Holding a belt from either stadium was the height of the sport. But Samart didn't stop there. He went on to win the WBC super bantamweight world title in western boxing – by knockout of all things!
Dieselnoi was the unstoppable force. He stood well over 6 feet tall and towered over most, if not all, of his opponents – indeed, Samart was about 5'8". Dieselnoi was an imposing man, to put it mildly.
Dieselnoi personified the Muay Khao, or knee specialist. He devastated some of the toughest men on the planet using his clinch and knees. He would aggressively press forward. He trapped his opponents, and drove knee strike after knee strike through them like a dagger. This brutal style earned him the moniker "The Sky-Piercing Knee." In 1981, Dieselnoi would capture the Lumpinee title at 135 lbs. setting the stage for his epic showdown with Samart one year later.
The outcome? Dieselnoi defeated Samart that night by decision. The bout was voted the Fight of the Year by the prestigious Muay Thai Sports Writers' Association. But the details of the fight aren't as important as what the fight represented.
This fight epitomized the revolution in Muay Thai that became the "Golden Era" of the 1980s and early 1990s.
The Muay Thai Golden Era was the pinnacle of the sport. Crowds packed Lumpinee and Rajadamnern to watch (and bet on) the best fighters on the planet.
Legends like Ramon "The Diamond" Dekkers, "The Turbine From Hell" and Coban "The Crusher" Lookchaomaesaitong battered each other in four epic fights.
Technicians like Kaensak Sor Ploenjit (the first man to receive the prestigious Fighter of the Year Award in two consecutive years) and Karuhat Sor Supawan treated fans to a ballet of punches and kicks.
Colorful characters, like Sangtiennoi "The Deadly Kisser" Sor Rungroj, known for kissing his opponents, entertained ruckus crowds night in and night out.
The Golden Era was truly a great moment in fight sports. But it went unnoticed in the United States where western boxing was the be all and end all of ring sports.

NAK MUAY LEGENDS IS BORN!
A few decades later  Muay Thai has now become part of popular culture. Gen Xers grew up playing Capcom's Street Fighter with its iconic Sagat (a character based on a Golden Era legend named Sagat Petchyindee) beating up Ryu and Ken with his signature "Tiger Knee." Movies like Ong-Bak: The Thai Warrior showcased Muay Thai, or at least a stylized movie version of it, to millions of fans.
But probably the biggest impact came from MMA. Guys like Anderson Silva and Jose Aldo showed American audiences the effectiveness of Muay Thai as a combat sport. Who could forget when Anderson Silva drove his knee into Rich Franklin's face.
Despite Muay Thai's increased popularity, American fight fans still remained unaware of the Golden Era of the sport. These Nak Muay Legends continued to take a backseat to other fight icons. This was apparent in the number of apparel companies selling Mike Tyson and Bruce Lee shirts. But good luck finding Samart or Dieselnoi apparel.
So in 2017 we decided to fix that! That year we (the founders of Nak Muay Legends) made a trip to Thailand. We met Samart and Dieselnoi in Sai Mai Bangkok. Samart and Dieselnoi had remained close through the years. Their friendship and our idea came together. We signed a deal that made us the first, and only, company to have official licensing deals with Samart and Dieselnoi to make apparel honoring these legends. The rest is history!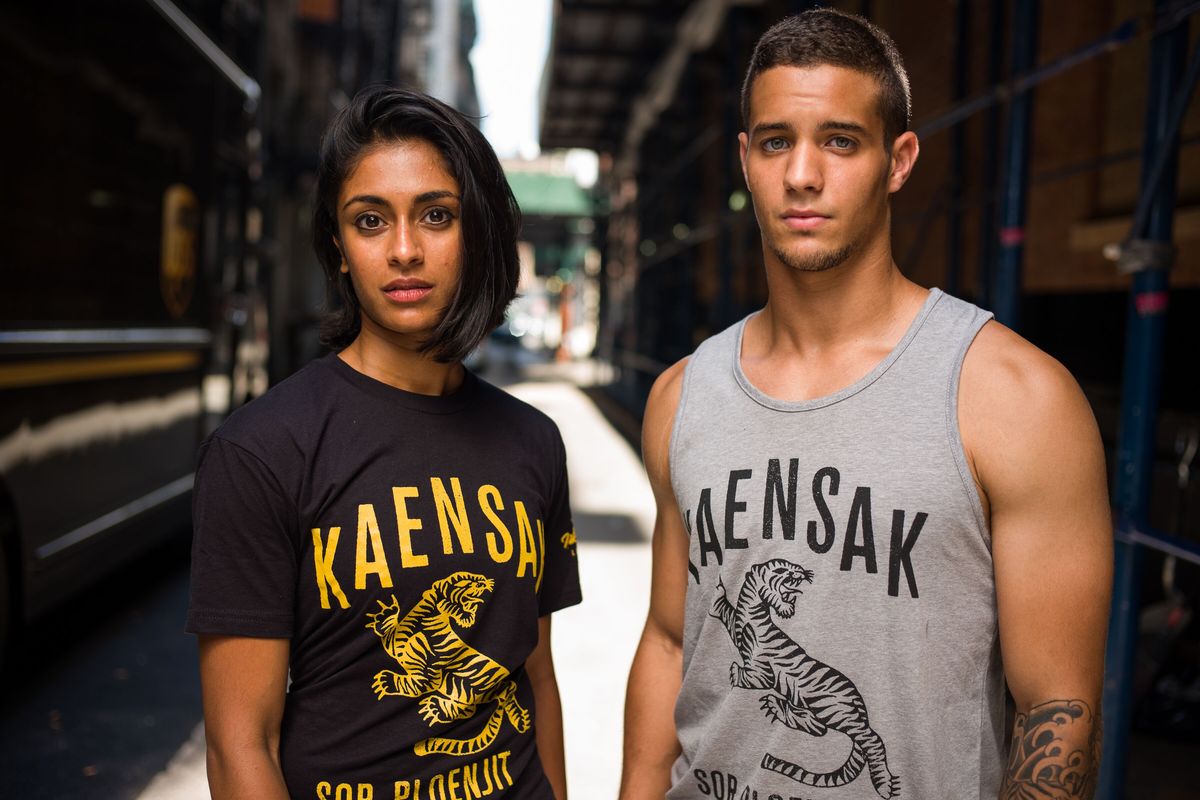 Since then we have partnered with even more Golden Era legends. We have included Rob "The Dutchman" Kaman, Kaensak Sor Ploenjit, Sangtiennoi Sor Rungroj, and Sagat (Sakad) Petchyindee.
And we've sold thousands of shirts and other apparel.
Best of all, we've been able to pay these Golden Era legends thousands of dollars for the use of their names and images. All while educating a new-generation of Muay Thai fans along the way.
With your help, we hope to continue to honor these titans of the Golden Era. If you're a fan of Muay Thai, make sure to pick up some apparel at nakmuaylegends.com, use the code MTG to get 20% off.
Connecting the Past, Present, and Future of Muay Thai. This post is sponsored by Nak Muay Legends. Nak Muay Legends celebrates the heroes, legends, and icons of Muay Thai. Our mission is to create art in the form of apparel that honors each fighter's contribution to the sport and art we love. To that end, we've partnered with some of the greatest fighters of all time.
Our apparel can be worn at the gym, out to fights, or out on the town. Quality is key, and we team with the fighters, honoring their legacy. We ensure that they get paid for the use of their names and images.