Muay Thai is a sport. And sports is a money game. It is entertainment. Bouts create attention. Attention means ads. Commercials create sales.
This is the game. This is capitalism.
The wages of Nak Muay are a way to understand the economics and history of the industry. Looking at the dynamics of the purse sizes shows where the workers of the sport stand. It also points a way for fighters to fight for more money in the future.
There is always contention between boxers and the larger world. Fighters will always try to gain the most value for their performance. Capital will always try to exploit the most out of the boxers' hard hits.
Understanding The Money Bag
The main purpose of a fighter is to draw attention and to create an audience. As stated before an audience is attention, and attention means sales.
Boxers are contracted for fights. Win or lose they receive a certain amount. This guarantee ensures that the boxer will perform to a certain level of expectation. An increase in purse size only comes through reliable performance and winning.
The pay structure creates a rating system for fighters. A fighter that gets 3,000 baht is not expected to perform at the same level as a fighter at 30,000 baht or 300,000 baht.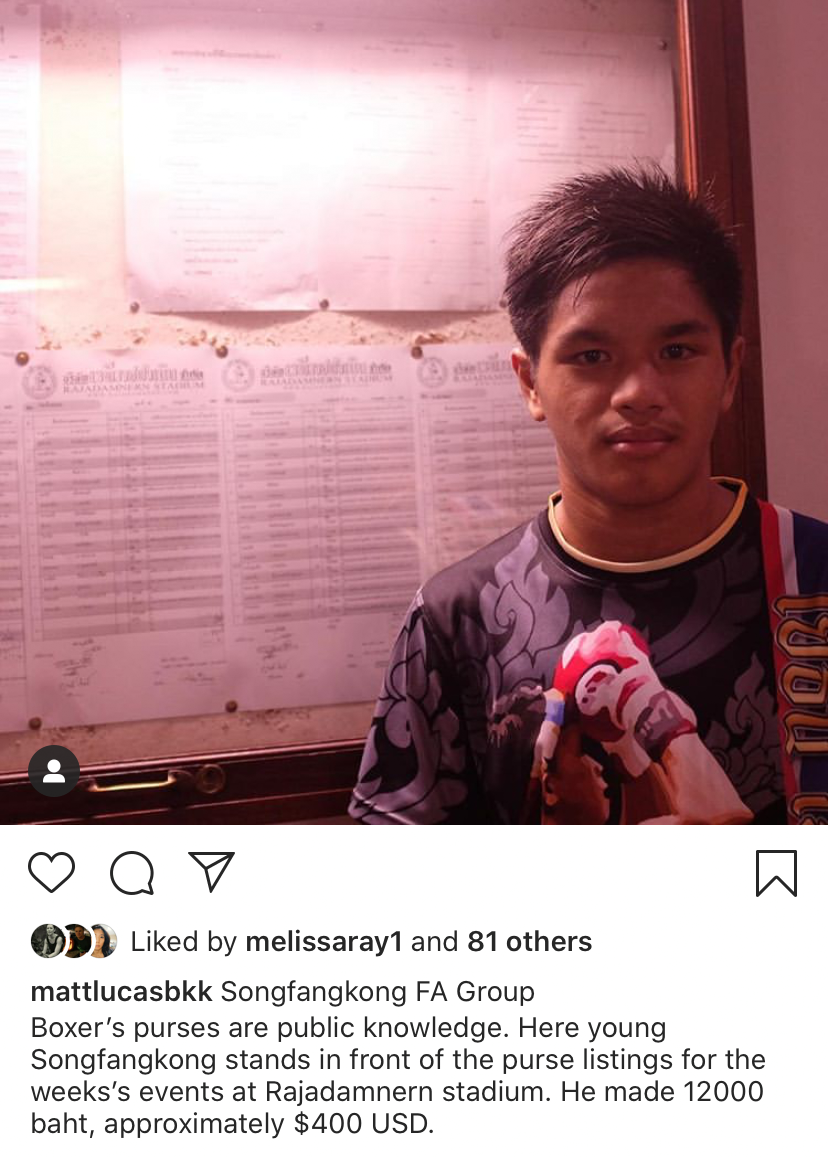 However, there is a glass ceiling for female boxers. Opportunities are limited. Purses for nak muay ying will rarely go above 10,000 baht. While male stablemates at the same age with the same level of experience get much higher.
Purses for foreign fighters rarely hit as high as the Thais in Thailand. There are several reasons for that. Foreign fighters are, in general, not as good as Thais. Also, foreigners they do not stay long enough to establish themselves
An important note, Thai fighters will be contracted with a gym. These contracts will often last seven to eight years and the gym is normally entitled to half of the purse. In exchange, the boxer is trained, managed, fed, and housed by the gym. The Sports Authority of Thailand certifies the contracts.
Mismanagement of funds and or the boxer running away from contracts does happen. Often the boxers, who will not be in a position of power or unaware of the situation will be stiffed. In the latter case when nak muay run away, the boxer will often be blacklisted.
Injected With Cash
A boxer's wages include the guaranteed purse and also additional bonuses. In many stadiums, there are bonuses for cuts, and or performance bonuses.
Stadiums such as Rajadamnern or Lumpinee have the adchid, or injections. The adchid typically comes from gamblers who win on the boxer's performance. They will then give a payout to the boxer. Sometimes an adchid is given to a boxer despite losing the match. The adchid is an incentive to encourage the boxer to continue fighting.
These tip outs make a significant impact on the boxer's income and performance. The infamous "elbow war" between Jongsanan Fairtex and Sakmongkol Sitchuchoke happened because of gamblers. Each respective corner offered adchids, or bonuses, for winning/knockouts.
These unregulated and unofficial bonuses can make up a large amount of a boxer's performance. The boxers will play according to the potential payout. For the main stadiums that means winnings on points. A win is a win, no matter how it comes and it is safer for the boxer to win on points than to go for a dramatic knockout. However, sometimes gamblers will skew the game by offering payouts for knockouts. Generally,the fighter is looking for the safe win. This ensures their guaranteed purse size goes up and they receive an adchid.
At the entertainment shows there is an emphasis on dramatic action. Financial encouragement through performance bonuses helps boxers continue to perform at high intensities.
For example, Max Muay Thai has three levels of bonuses. There is the normal bonus (5,000 baht), the super bonus (10,000 baht) and the double super bonus (20,000 baht).
The western world of combat sports has incorporated prize and bonuses into their shows. There is often fight of the night and win bonuses. Often MMA fighters are paid to show, and then paid to win.
The Change In The Purse
The business side of Muay Thai has slowly grown. The sport is a staple and plays an intricate part in Thai culture.
Stadiums such as Rajadamnern and Lumpinee were places of gathering for fans. And with the increasing crowds came a increase in purse sizes.
In his career spanning from 1946-1954, Suk Prasarthinpimai made 20,000 baht (unadjusted for inflation) per bout*. The legendary Apidej Sitthirun made 85,000 baht (unadjusted). Sitthirun's career-high ran from 1961-1970.
By the 1980s fighters like Samart Payakaroon were making 350,000 baht per bout or 875,000 baht when adjusted for inflation. In the mid-nineties Jongsanan Fairtex was making 170,000 baht (299,000 adjusted) per bout. The late nineties saw Orono Por Muang Ubol making similar wages.
However, purse sizes dramatically dropped in the late nineties and the game changed. Wages for fighters stagnated. Fighters such as Petchboonchu FA Group made 110,000 baht during his active period of 2007-2013.
Boxers that received hefty paydays such as Buakaw Por Pramuk, at 2,000,000 baht or Yodsanklai Fairtex, and Khem Sitsongpeenong 300,000 baht and 400,000 baht per bout. All three were fighting at an international level at the time.
Sangmanee Sathian Muay Thai Gym, the highest earner at the stadiums today, racks in a purse of 200,000 baht per bout. That is nowhere near the amount as Samart Payakaroon in the Golden Era of the sport. And it is still less than the later career of Jongsanan Fairtex.
But why the drop in wages?
Was it because the gamblers had taken over the stadiums? Was it due to the massive economic fallout from the Tom Yung Gung crisis? Had Muay Thai and its culture not grown with an increasingly globalized Thailand? Were Muay Thai fans just simply drawn away by new options on television and the internet?
The Cost Of Tickets
Speculations abound about why the regular fans left. But without a doubt, technical changes were a large factor. First there was the shift to television.
"Nowadays there is a decrease in the audience," Petchyindee promoter, Nuttadaj Vachirarattanawong/Boat said. "There are more televised shows. When my dad was a promoter there were a lot of people in the stadium. People came from other provinces, Buri Ram and Chiang Mai. Now they wait and watch it on tv."
As Boat notes there is more Muay Thai available to fans than ever before. Channel 7, Channel 8, MHCOT, Thai Rath, Amarin TV, and many other stations in Thailand regularly have shows on a weekly OR even daily basis.
And then came the internet. Companies like ONE Championship are moving from televised platforms to online ones.
Boontham Pakpo promoter for Sid Chef Boontham stated, "In the past, there wasn't live stream and the technology wasn't good so everyone especially people in Bangkok they would go to the stadium as an activity. It was like watching a movie."
Fans of the sport don't even need to be at home to watch the sport. They can just watch via their smartphones or tablets.
The recent ONE Championship bout between Rodtang Jitmuangnon versus Petchdam Petchyindee academy has over 318,000 views on youtube.
Rajadamnern which has a capacity of 8,000 people had over 124,000 views for their Sor Sommai Youtube live streamed show.
Max Muay Thai's Youtube page has over 30,000 views for their weekly Sunday show. This does not include the number of Thai commentary videos.
These online streaming services attract eyeballs, ads, and potentially clicks and sales.
Grabbing The Purse Strings
While more and more people are seeing fighters fight, wages for boxers are not rising. So what are boxers to do?
MMA fighters, like Paige Van Sant, have utilized their in-ring careers to boost other lucrative money making opportunities. In 2020 Van Sant will make $60,000 from her MMA bouts contracted through UFC. But, the author and "Dancing with the Stars" participant had a net worth between $1 to $3 million in 2019. There is at least a 15x differential in income revenue.
While Van Sant may be an outlier in terms of income, her style of self promotion and diversifying her income mirrors other boxers, mainly foreigners.
Popular Muay Thai fighter out of the UK, Liam Harrison, has taken his career online. With over 466,000 followers on Instagram and a 2.2% engagement rate, the hard hitter's posts is potentially estimated as worth between $2,000 and $3,000. The Hitman has also set up shop online with a series of online tutorials and a monthly subscription base. He also regularly travels for seminars and works as a personal trainer.
Ognjen Topic, one of America's best Muay Thai fighters, has over 139,000 followers and his posts on Instagram, are potentially estimated to be worth $240-$800 per post. Topic has capitalized off his in the ring appearances through partnerships with Onnit, Infightstyle, Cleaneats Meal Prep, Eggweights, and Hudson Valley CBD. These strategic deals offer buttery daily bread for what would otherwise be a low paying occupation.
Money Matters
Muay Thai is growing. There are more Muay Thai shows, promotions, and gyms than ever before. The stages are getting bigger as well but money for boxers is still a battle that must be fought. There is a complex relationship between purses, gambling, fight outcomes, sponsorships, and even fight styles. Boxers have historically been underpaid or left out of the negotiation table. The game can change though. Nak Muay need to bring their eight limbs to the outside world.
——-
*Information was taken from 123 ALL TIME GREATEST MUAY THAI FIGHTERS BOOK which contains several problems.
1. The book we sourced from only gives us data on fighter purses and their peak period. It doesn't specify if the figure is an aggregate of all the money they made, or if it's an average/median value. It would be more accurate if  each fighter's purse size for every year they fought was recorded.
2. The inflation calculator used only has consumer price index information dating back to 1976.
3. Comparative data isn't valid because the book gives us info dating back to 1948, but we don't have inflation data dating that far back.
---
Brought to you by: On Fighting In Thailand: A Guide To The Sport In The Motherland