A History of Muay Thai in Australia
This article looks at Australian Muay Thai through the careers and lives of four individuals. Profiled are Caley Reece, Mark Hammer Castagnini, Darren Reece, and Nugget McNaught. Looking at their careers we can begin to understand the course of Muay Thai in Oz.
The sport down under has gone through a lot of changes and a lot of iterations. There are many untold tales and this article is a brief window into the past.
This article will present a rough timeline of events along with a few key moments in the sport including:
The Beginnings Of The Sport
Thailand Migration
Establishing Roots
International Exposure
Women's Muay Thai
The Current State Of Muay Thai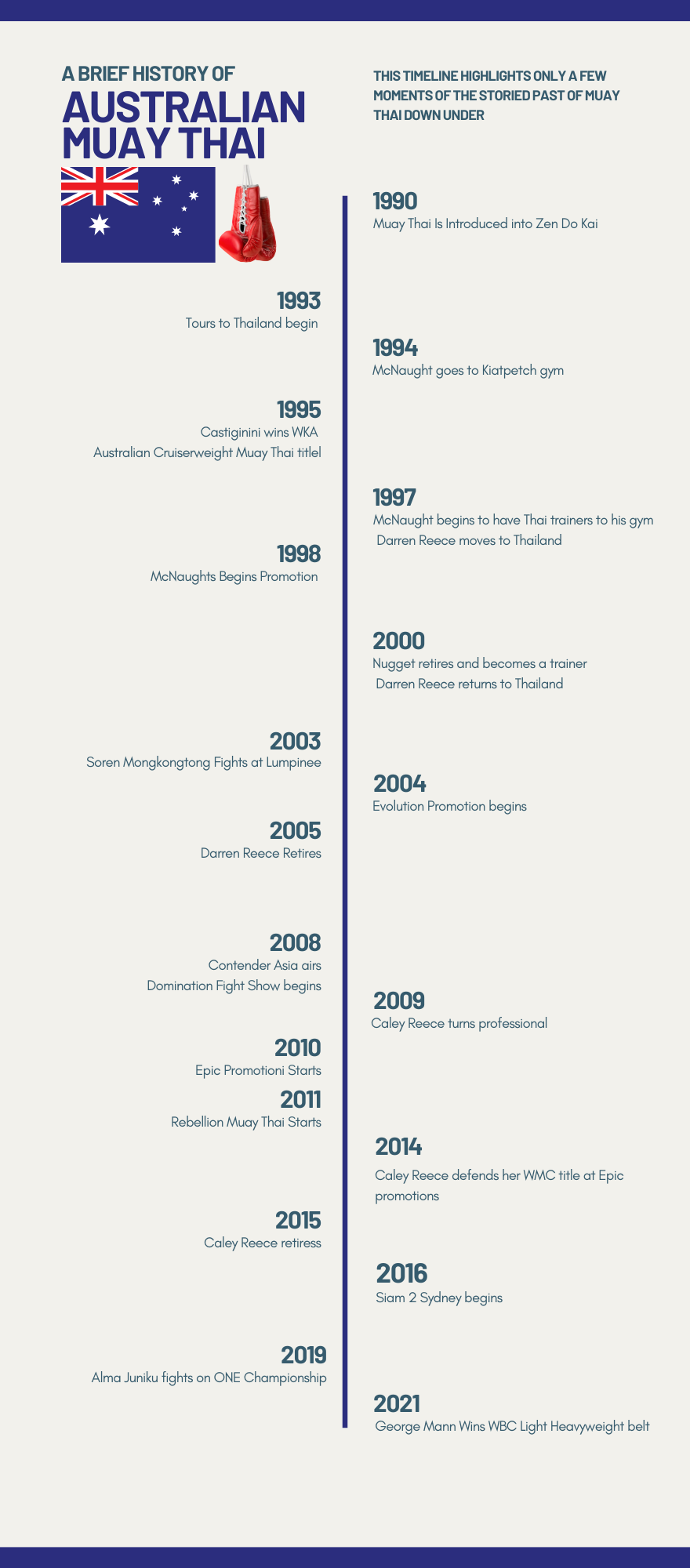 Beginnings of Muay Thai in Australia
The experiences of all four Australian stars point to origins that are far from Muay Thai. All first began in Zen Do Kai, a form of karate popular in the country.
"I started karate when I was 13. I was doing Zen Do Kai. It was huge in Melbourne, Sydney, Brisbane and also in Perth," Nugget McNaught said.
The martial arts style was founded by Bob Jones, of the Bob Jones Corporation, in the early '80s. It developed through regular competition.
"Back popular in those days were soft touch tournaments that the Bob Jones Corporation used to run," Darren Reece said.
These karate tournaments grew the sport. Is also aided in the eventual rise of kickboxing in Australia.
Zen Do Kai continued to develop and in 1990 the style began to incorporate elements of Muay Thai.
"Bob Jones and the Zen Do Kai system had an offshoot of their club that focused on Muay Thai. They had links to Sityodtong gym in Thailand. It was a basic system but it was adequate and gave a good understanding of the elbow and knee strikes which is what I needed," Castagnini said.
Since the style had an emphasis on competition, many like McNaught, Castagnini, and Darren Reece, began to compete.
Castagnini and Darren Reece were active in the karate tournaments in the late '80s and early '90s. And McNaught had his first bout at 18 years old.
Kickboxing began to rise and dominated the country especially the southern states.
"Sydney, New South Wales, Victoria, and Sydney, were big kickboxing states," Castagnini said.
Australian Muay Thai And Thailand Migration
The growth of Zen Do Kai and other martial arts allowed for the opportunity of media companies to emerge. Blitz Magazine started in 1990. It was a quarterly sports magazine that covered martial arts. A section of the magazine highlighted Muay Thai and kickboxing.
"And it was such a popular part of the magazine it spawned its own magazine," Castagnini who helped found International Kickboxer said.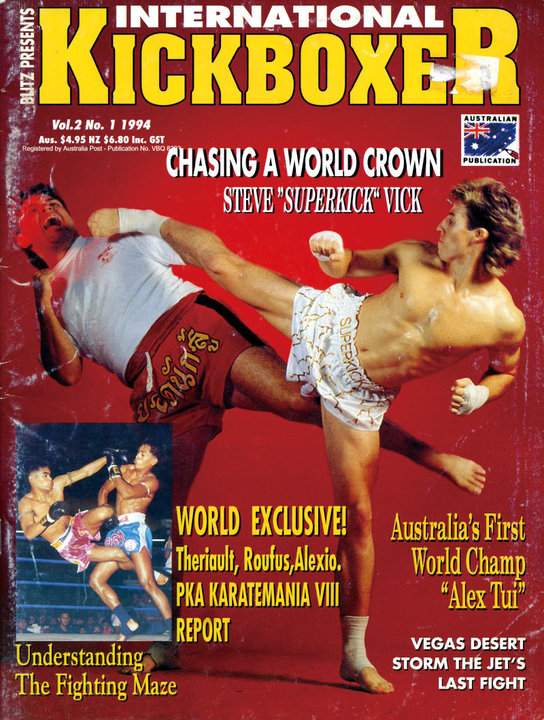 The publication aided in the growth of the sport and began to run ads for trips to Thailand.
"I was reading Blitz magazine and I saw an ad for Stefan Fox's very first Thailand tour. I went on that. That was 1993," Darren Reece said.
Stefan Fox, General Secretary for the International Federation of Muay Thai Associations (IFMA), was one of the leading pioneers for travel to Thailand. He formed regular trips to the motherland. He took visistors to the WMC (World Muay Thai Council) gym in Ko Samui.
While tours to Thailand were beginning, McNaught had struck out on his own. He went to Sityodtong, one of the few foreigner friendly gyms at the time. It was in Pattaya where he had his first bout in Thailand, a mismatch that worked in his favor.
"They put me in at best friend bar. And the fight lasts 30 seconds. I shut my eyes and threw a punch. And my opponent fell on the ground, but he was probably the cook or the taxi driver from down the road. But I won the fight." McNaught said.
His next fight was also a mismatch. This time the Australian took a thrashing.
"I survived the first round because the Thai started slow. But in the second round… I swear the referee, he's going to heaven because he saved my life as knees were flying past my head," McNaught said.
Fight Highlights From Later In McNaught's Career
Established Roots
These trips and early fights provided valuable experiences for the Australians. It led McNaught to train at several gyms. He spent time at Sasiprapra and Kiatpetch. While Darren Reece spent time at Saengmorakot.
These early connections provided valuable long lasting relationships. The Australians began to have Thai trainers work in their gym, bringing Muay Thai down under.
This period also saw a rise in shows of authentic Muay Thai. Fighters like Saengtiennoi Sor Rungroj fought in Australia. The Deadly Kisser took on Marcus Magnan.
In addition, McNaught and others began promoting in 1998. Other Muay Thai shows began to appear as well.
The coupled combination of International Kickboxer and promotions made Muay Thai popular.
"Fighters became household names; Carnage, John Wayne Parr, Bruce MacFie Preacher, all those guys. Through the regular showing on Fox Sports, which was awesome," Darren Reece said.
McNaught brought fighters from Thailand over to Australia from Eminent Air Gym. This led McNaught's student, Soren Monkongtong, to train at the gym and fight at Lumpinee and Channel 7 later.
After his lengthy stay in Thailand Reece opened Riddler's gym in 2003 in Perth. The gym flourished and Reece winded down his pro fighting career in 2005.
The Sport Gets International Exposure
With the groundwork set, Muay Thai began to become popular all over the country. Fights appeared regularly on Fox Sports a cable TV channel.
"Someone I know contacted me and said these networks are coming to Australia, it would be great if we could get Muay Thai kickboxing on. So I approached the network. Then they went through with the acquisition," Castagnini said.
The shows featured live commentary from Mark Castagnini and Michael Schiavello. Castagnini had established a strong base and a large gym in Melbourne, Hammer's Gym.
In 2008 the sport received a boost when the Contender Asia aired. Mark Burnett produced the show. Australians, John Wayne Parr, Soren Mongkol, and Bruce Macfie appeared on the show. The 15 episode series pitted fighters from around the world against each other. Parr faced off against Yodsanklai Fairtex in the finale for a prize of $150,000.
Castignini and Schiavello commentated the show.
In addition large shows like Evolution began the same year.
Women's Muay Thai
The exposure the sport received helped grow other aspects as well. The female division slowly began to develop. Caley Reece began to fight professionally in 2008. Like the others, she'd started in a Zen Do Kai karate competition. Watching Darren Reece's retirement fight in Perth in 2005 inspired her into action.
"Girls were fighting on that show. I'd seen kickboxing fights. But I hadn't seen many Muay Thai fights with knees and elbows. And I saw a particular girl fight and I was like, I want to do that. That's what I want to do," Caley Reece said.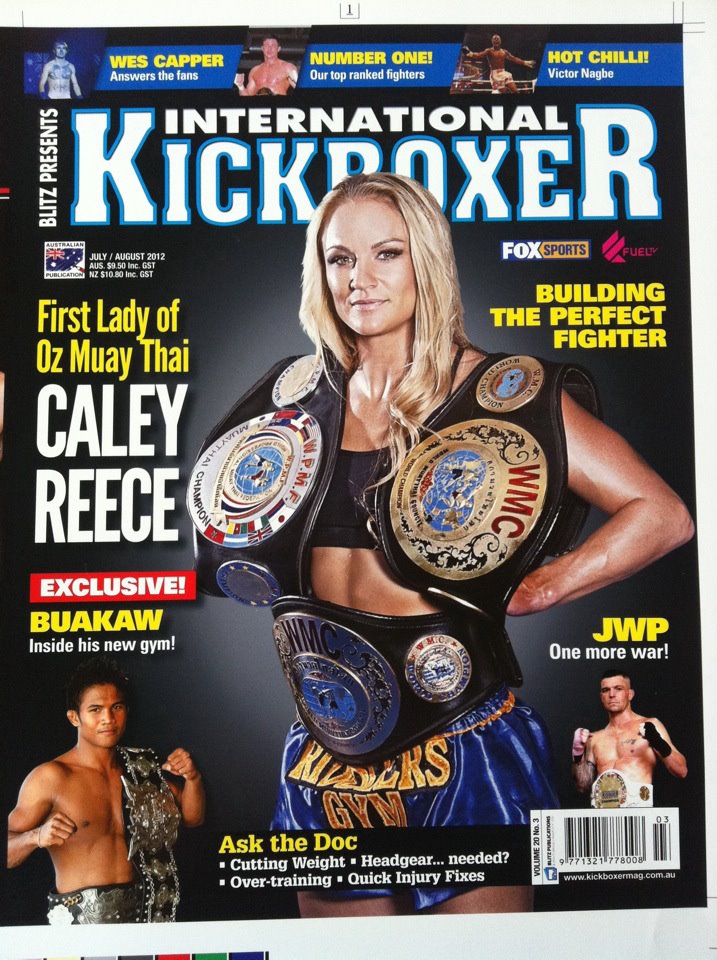 In 2009 Caley Reece turned professional and began a career that spanned six years. She fought around the world. She performed in Thailand for the Queen's birthday and took home the Lion Fight belt over Tiffany Van Soest. In her retirement fight she bested Chommanee Sor Taehiran in her hometown of Perth.
Caley Reece's career helped grow the female division immensely.
"Australian Muay Thai for females is really good. At the moment, we've got some great fighters that have got some great opportunities. You know, we've had things like ONE and Glory and things like that. They have opened up for females which were never around when I was fighting," Caley Reece said.
Current State Of Australian Muay Thai 
Despite Covid 19 setbacks the sport is still strong. Australian Muay Thai has established strong roots.
Shows like Rebellion Muay Thai which began in 2011 have increased the quality of fights and production for the country.
Small regional shows like Siam 2 Sydney which began in 2016 are still creating important matches for boxers.
There are other promotions throughout the country as well like Rogue Muay Thai, Domination, and Warrior's Way.
Access to the internet the sport has increased visibility. Bouts are now streamed Youtube or through paid services. Australian fighters, like Alma Juniku and Tyler Hardcastle have appeared on large overseas promotions. There are many rising stars like Tyson Harrison as well.
The WBC Muay Thai has expanded it's reach into the country. Recently George Mann from Darren Reece's gym won the Light Heavyweight Belt.
Nugget McNaught has returned to his home country and is developing his gym and fight team in Brisbane.
Conclusion
The history of the sport in Australia is storied, yet many of those tales are still left untold. This article just touches on the surface. The future is bright for Muay Thai and its documentation though. Muay Thai Gram is happy to be a small part of making the sport better.
---
Brought to you by: On Fighting In Thailand: A Guide To The Sport In The Motherland