This article goes over everything you need to know about Muay Thai in Thailand in 2023. We highlight the state of the sport, the Muay Thai fighters, The promotions and where to watch.
The State Of Muay Thai In 2023
We are seeing a big push for entertainment shows. The traditional five round gambling centered Muay Thai are still going strong. But the entertainment shows are at the forefront. For example, at Lumpinee we have ONE Championship, and also Fairtex Fight every Saturday. We also have Lumpinee World Championship.
Listen to this article here
Watch this on YouTube here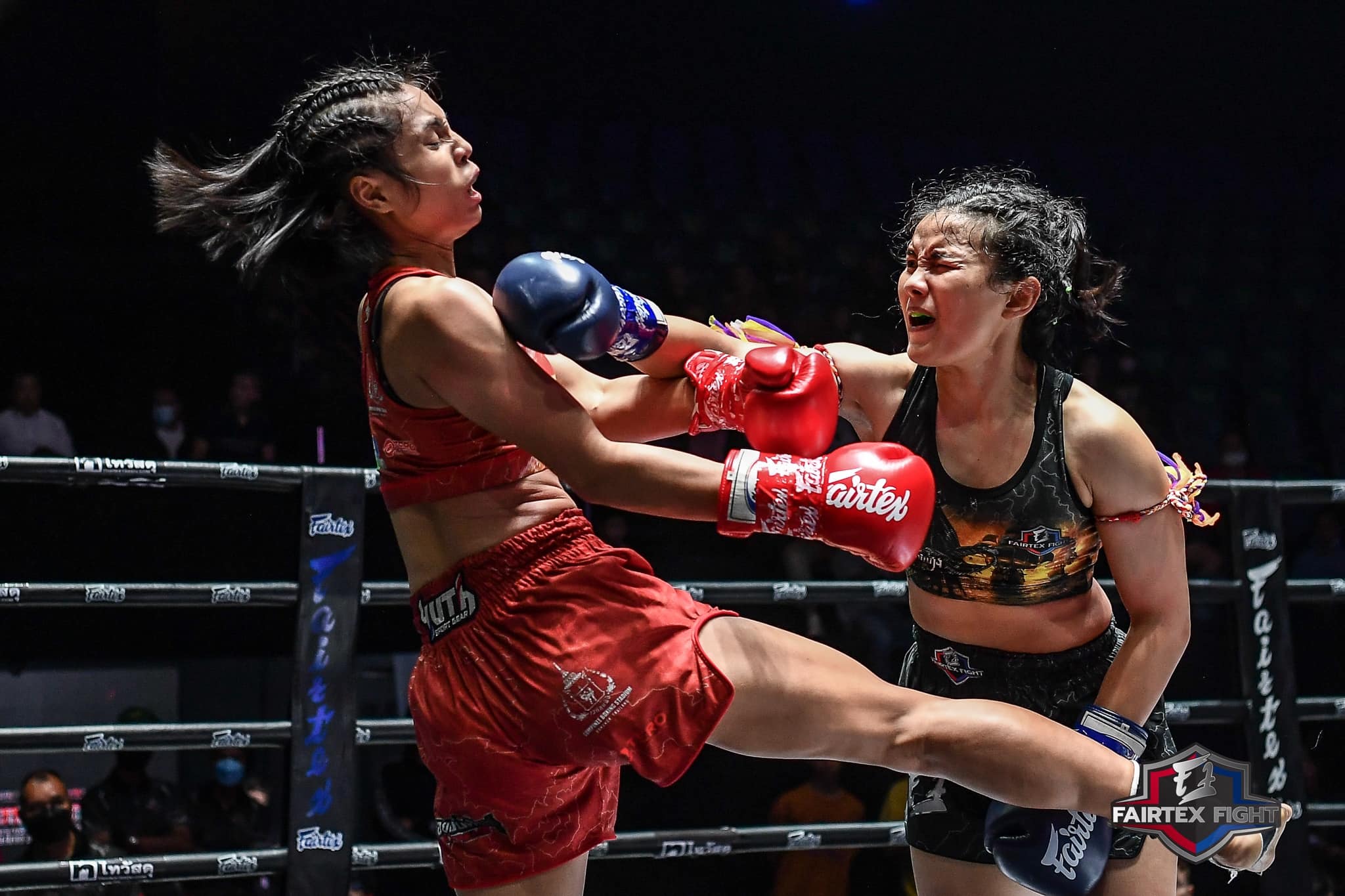 All three entertainment shows are three rounds. There's a mix of MMA at Fairtex Fight and ONE Championship.
Over at Rajadamnern, there are big developments. Plan B, an advertising company, bought a majority share of Rajadamnern. Plan B owns a lot of the billboards around Bangkok. They also own intellectual property with football leagues in Buri Ram.
They revitalized the stadium under GSV, or Global Sports Ventures. The stadium is reminiscent of an art deco theatre. Every Saturday they are running Rajadamnern World Series. They work with promoters like Petchyindee, Palangmai, and have their show.
The influx of money from companies like ONE Championship and GSV is changing the game.
There are new opportunities and a new wave of fighters coming up.
Male Muay Thai Fighters
Riding this new wave of promotion is old hand Seksan Or Kwanmuang. Known to the Thai scene he is getting more international play. He's known as คนไม่ยอมคน, kon mai yom kon, the man who yields to no one. He's got a very forward pushing style, a very exciting style,
There's also Ferrari Fairtex, who is a fiemu (technical) fighter out of Fairtex Training Center in Pattaya.
He recently dropped a TKO loss to up and coming Fabio Reis from Venum Muay Thai. Fabio hit like a truck and clipped Ferrari who fights like a Ferrari. Tight turns, and lots of angles, and are exciting to watch.
Danny Rodriguez, who Thai journalists call the Mayweather of Muay Thai is one to watch. He has an undefeated record.
In the last year has become a Rajadamnern and Rajadamnern World Series champion. He's very, very exciting. The Swedish fighter trains out of Sinbi Muay Thai in Phuket.
Other stars include Luis Caijba, Julio Lobo, Noellison Silva, and Jalill Barnes all training out of Phuket Fight Club.
Jalill's fights on the traditional shows. He recently fought at Jitmuangnon stadium and took home an 80k bonus from the gamblers.
Out of 7 Muay Thai is Mathias Cassarino a very accomplished athlete out of 7 Muay Thai. He's coming back from an injury and everyone wants him.
Female Fighters 2023
It's a golden age for female fighters. Rising paydays and increased opportunities make it possible for women to have careers in the sport.
There is Barbara Aguiar from Phuket Fight Club. She recently fought Dokmaipaa Fairtex, who is one to watch as well. Aguiar picked up the WBC World Title after beating Joanne La at Rebellion.
There is Supergirl Jaroonsak who fought Stamp Fairtex in a kickboxing bout. Supergirl took the bout after a switch of opponents last minute on ONE Championship.
Fani Peloumpi from Greece is a very experienced fighter. She's done Muay Thai and ventured into Bare Knuckle Boxing. The no holds bar sport is picking up steam in Thailand.
WBC Muay Thai star Kwankhaow Por Muangpetch is a rising star. At 16 years old she's fought internationally. She took home a gold medal at the WBC Muay Thai Youth games in Canada. She represented Thailand in the Amazing Muay Thai Festival. The hard handed puncher is on the Lumpinee World Championship show.
Lisa Brierly is another shining star. Last year she won the Super Champ Eight Woman's tournament. So she's come into quite a lot in the spotlight. Very sharp hands, a very strong style, and very good technique. Recently she secured a ko win over Rungnapa at ONE Championship. The technical fighter is opening a gym with her partner Manasak in Chiang Mai.
There are a ton of other legitimate fighters; Petchsitong Sor Phuangpong, Karaked Commando Drink, Alycia Rodriguez, Celeste Hansen, Paloma Arranz, and more.
The male division and female division are exploding with talent. Both Thai and Foreigner alike are growing but they're coming out of gyms.
Muay Thai Gyms To Watch Out For
In the last year, we've seen a lot of fighters come out of Phuket Fight Club. They've got a strong stable of Brazilian fighters. But we are starting to see a few more as mentioned before, like Jalill Barnes.
Another one that I would keep an eye on with a lot of strong foreigners is FA group.
FA group has been around for a very long time producing fighters like Petchboonchu and Yothin. There are a lot of strong fighters who have been showcased on ONE. Recently there was the Belgium boy, Jelte Bloomaert. A lot of very strong foreigners are starting to go over there to improve their clinch game.
You can't talk about Muay Thai in Thailand 2023 without mentioning Fairtex. At Fairtex, there are athletes like Stamp Saemapetch, and Ferrari. Then there are foreigners like Smilla Sundell, Kendu Irving, and Aaron Zackon. They compete at Lumpinee on ONE Championship and Fairtex Fight. American fighters Irving and Zackon are both in the Thaiwasadu tournament.
Revolution Gym in Phuket creates solid fighters. There are Brazilian athletes and Iranian champions out of the gym in northern Phuket.
Speaking of Iranian athletes, you must mention Venum Muay Thai of course. They have athletes like Reza, and Sajjad. Sajjad is the current Rajadamnern Champion A lot of very strong punchers coming out of, Venum. Many of the fighters are coming from the eastern block with a more kickboxing style. But they are transitioning to a strong Muay Thai style.
We can't mention them all, but other ones to look out for. PK Saenchai, Petchyindee, Tded 99, Detchapan, Kiatphonthip, Keatkhamtorn, and others.
The Muay Thai Promotions
The fighters go to gyms and the gyms bring them to promotions.
As mentioned before, there are two types of promotions.
There are the more traditional shows and then there are the entertainment shows. The traditional shows run on the five round format. The first and second round fighters tend to feel each other. Then they pick up in the third and the fourth. Then the winner protects their points in the fifth.
Then there is the entertainment side which is going hand in hand with the traditional side. On the entertainment side, there is ONE Championship with its big paydays. ONE Lumpinee gives out $10,000 bonuses. Recently Tawanchai PK Saenchai received $50,000 for his ko win and belt defense.
The money is increasing at Rajadamnern as well. RWS winner Danny Rodriguez won a Ducati motorcycle for his win at the stadium. The next RWS tournament is for 1,000,000 baht, about USD 30,000.
Money and purse sizes play a huge role in the decisions of the athletes, gyms and promoters. Learn more about the role of pay here. 
Muay Thai Schedule In Thailand 2023
The main stadiums right now are Lumpinee and Rajadamnern. They switch time slots, more or less. Wednesdays is the Palangmai show at Raja, Thursdays are True 4 U at Raja, and Fridays are ONE Lumpinee at Lumpinee. Rangsit stadium hosts Muay Mun Wan Suk on Fridays. Saturday mornings is Fairtex Fight at Lumpinee.Also In the evening is Lumpinee World Championship and also the Rajadamnern World Championship show.
Max Muay Thai is having regular daily shows as well. They are not televised. There are plenty of promotions running in Phuket with Sinbi Muay Thai opening a new gym. Regular venues like Bangla and Rawai are cracking away.
For traditionalists, you can find classic bouts on the Petchyindee Facebook. There is a ton of information on Siam Fight News. Also, there are youtube channels like JKN18, Channel 8, Amarin TV, and Channel 7hd.
The Future of Muay Thai
There is no excuse for people not to watch fights with the accessibility of fights being on YouTube, and free streaming on Facebook. Muay Thai in Thailand 2023 is exploding with growth and it is more accessible than ever.